Ceramic pearl
Find 15 natural ceramic pearls to purify and eliminate chlorine, limestone and potential traces of harmful elements often contained in tap water.
Our ceramic pearls are sold in an organic cotton bag, ideal for reuse for your herbal teas.

Stats
Nutritional value
500ml ℮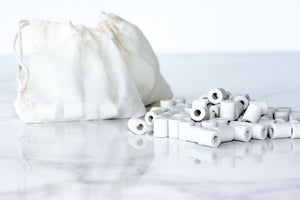 INSTRUCTIONS FOR USE
When using them for the first time, it is advisable to soak the pearls in water from a carafe (about 1L) for 30 minutes before consuming them.

Afterwards, you can leave them in a few centimetres of water and add new water, then just wait 10 minutes before consuming them again.

They have an unlimited lifespan and do not require any maintenance.
We select our ingredients with utmost care.
Our story